Bregu: Balkathon – Smarten up for the future is not only regional response to pandemic outbreak but also a mind-setter for the changing, digital world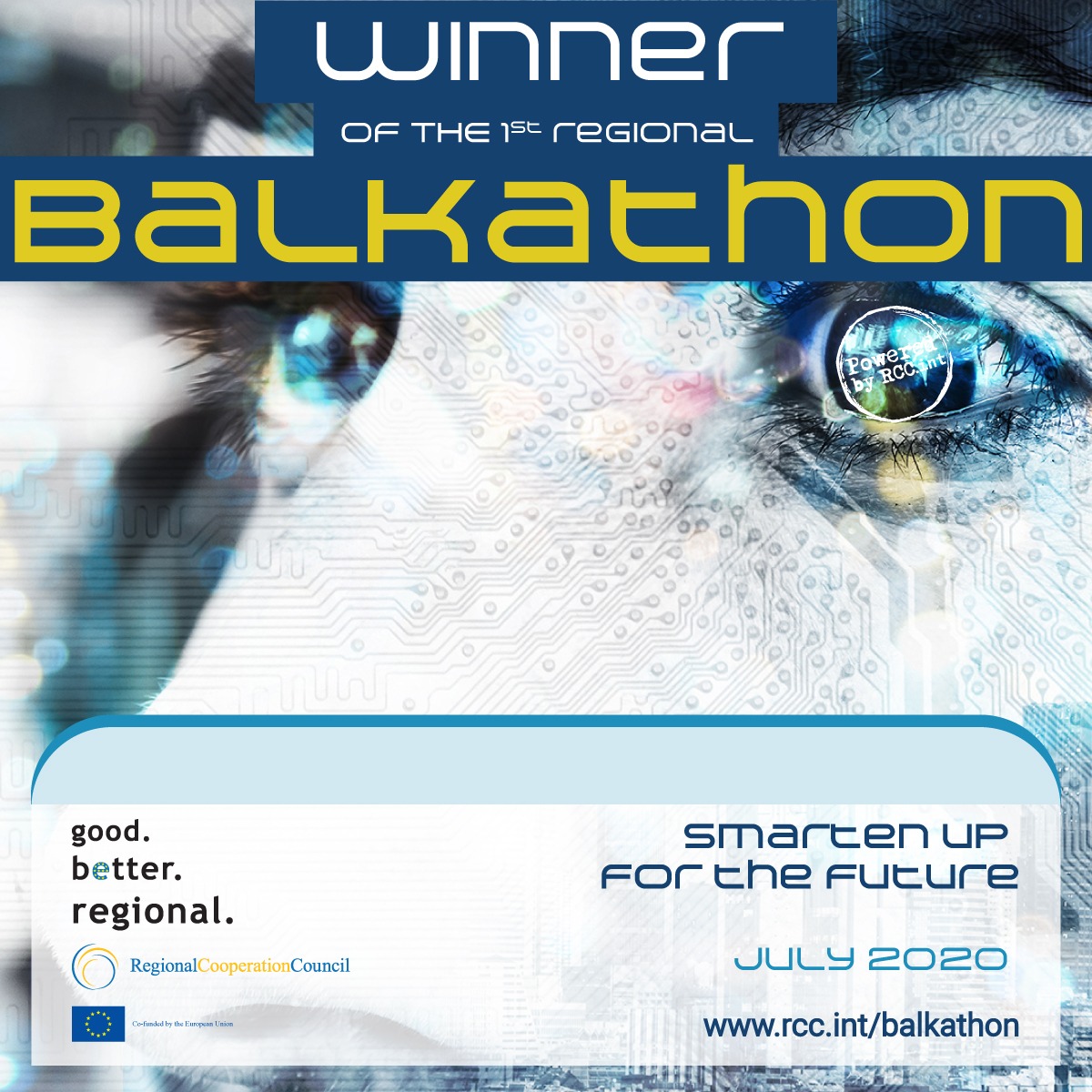 Miron Lukač on behalf of Portal World Team, Albana Mucaj on behalf of the Kallz Training Center Team, and Dritan Mollanji on behalf of Symmetric Team Awarded for Their Best Innovative Solutions for Smart Tourism, Digital Learning and Online Payments at Balkathon, the 1st Regional Online Competition in the Western Balkans
Balkathon final session featuring the best digital solutions selected from 88 applications from the region was held online today
Sarajevo – Miron Lukač on behalf of Portal World Team from Bosnia and Herzegovina, Albana Mucaj on behalf of the Kallz Training Center Team from Albania, and Dritan Mollanji on behalf of Symmetric Team from Albania were awarded for their best innovative solutions for Smart Tourism, Digital Learning and Online Payments at the final session of Balkathon, the 1st Regional Online Competition in the Western Balkans, held online today.
"I congratulate the winners but also all the participants of the Balkathon. Innovation success starts with commitment - making innovation a priority and investing decisively behind that ambition. And boldness, being willing to pursue opportunities beyond your core. This is exactly what these young people have shown us today. Thank you for your participation and bringing forward your fresh ideas. For us, this is just the beginning, an icebreaker to our business as usual mode which we plan to pursue in the future," said Majlinda Bregu, Secretary General of the Regional Cooperation Council (RCC), at the Balkathon Awards Ceremony.
"We are pleased to have organized this first ever regional competition, Balkathon – Smarten up for the future that brought together young people from the Western Balkans. We received 88 applications (23 from Albania; 21 from Bosnia and Herzegovina; 16 from Kosovo*; 9 from Montenegro; 10 from North Macedonia; and 9 from Serbia) in many different areas of expertise from across the region, all united in their desire to offer their time, talent and ideas to help find solutions to the coronavirus crisis. Our initial idea behind Balkathon was to help the region recover from the horrid effects of the pandemic, primarily in sectors that have proven to be insufficiently resilient or prepared for the lockdowns we are facing: tourism, digital learning and online trading. However, it has shown its potential to grow and develop beyond that, not just as a response to this unprecedented situation but to change our approach to things - a mind-setter that would be much needed in the changing world, to ensure dynamic growth on personal level as well as on the level of a society and economy."
The winning projects brought forward new ideas on how to approach tourism, learning, and online financial transactions in effective and yet safe way.
• Miron Lukač on behalf of Portal World Team from Bosnia and Herzegovina offered solution in Smart Tourism - an augmented reality solution that allows its users to experience the location they are visiting through content which is overlapped with their surroundings;
• Digital Learning Platform's winner Albana Mucaj on behalf of the Kallz Training Center Team from Albania presented the idea for an application that connects children and teachers from different countries who are passionate about technology and foreign languages; and
• Dritan Mollanji on behalf of Symmetric Team from Albania presented solution for Online Payments, OpenPay - aimed to bypass the card schemes and connect directly retailers and banks in a single platform.
The three winners were awarded EUR 10.000 each for further development of their ideas, ultimately aimed for practical use.
Director for Western Balkans at the EC's DG NEAR, Genoveva Ruiz Calavera, who together with Secretary General Bregu presented the awards to the winners, congratulated them, extending the EU support to Balkathon and the RCC for organizing such an inspirational event.
"All competitors showed fantastic amount of talent, which is a promising sign that Western Balkans has a lot to offer in digital transformation as key pillar for economic recovery. In that respect, you are opening the way for your region and looking forward to seeing these capacities developed. It is inspirational to see developed blocks of smart growth of the region, especially in these COVID-19 circumstances."
Balkathon competition started on 1 July 2020, with an open call to all 18+ Western Balkan citizens with innovative ideas in the three set categories to apply: Smart Tourism, Digital Learning Platform, and Online Payment Solutions. Eighty eight applications were received in the registration period. All of them had a chance to work with designated mentors to develop their ideas further for two days, followed by the screening and initial selection of the finalists by the pool of experts in the given fields from across the region that took place this morning. The selected nine finalists, three from each category, had a chance to present their ideas to the members of jury, based on which the jury voted and selected the three winners of 2020 Balkathon.
Entire final Balkathon event was streamed live on the RCC's You Tube Channel and Facebook Page, and it will remain available publically.

***
1st edition of Balkathon, organised by the RCC and supported by the European Union, aims to become an annual, regional competitive event mobilizing Western Balkan innovative talent to come up with new ideas and solutions for digital age.
Find out more about Balkathon competition at https://www.rcc.int/balkathon
* This designation is without prejudice to positions on status, and is in line with UNSCR 1244/1999 and the ICJ Opinion on the Kosovo declaration of independence.